The concept of a Managed Service Provider isn't necessarily new, but it is something that can be difficult for organizations to comprehend.
A managed service provider (MSP) is a company that remotely manages a customer's IT infrastructure and/or end-user systems, typically on a proactive basis and under a subscription model.
So, what is actually a Next-gen AWS MSP?
AWS MSP Partner Program certifies MSPs that can deliver AWS cloud services as business solutions to AWS customers by maintaining the set criteria and guidelines.
The traditional MSP landscape is rapidly evolving. Customers demand comprehensive cloud-native solutions that reduce costs, improve business agility, and increase security. Next-gen AWS MSPs focus on business outcomes that go beyond the health of individual resources, focusing on four key areas:
• Plan and design
• Build and migrate
• Run and operate
• Optimize
Pre-requisites for AWS Next-gen MSP
APN Membership
You must register as an AWS Consulting Partner with the APN and upgrade to Select Tier.
Customer Engagements
After applying for the APN Membership, you should have at least 4 AWS Customer References which must include 2 publicly available references.
MSP Validation
Go through the latest AWS MSP Partner Program Validation Checklist and complete self-assessment following the same.
APN Partner Journey
AWS itself maps out the complete journey for an MSP to become a Next-gen AWS MSP. It includes clear steps and milestones in a typical journey of APN Partners in order to get certified and become a partner under AWS MSP Program.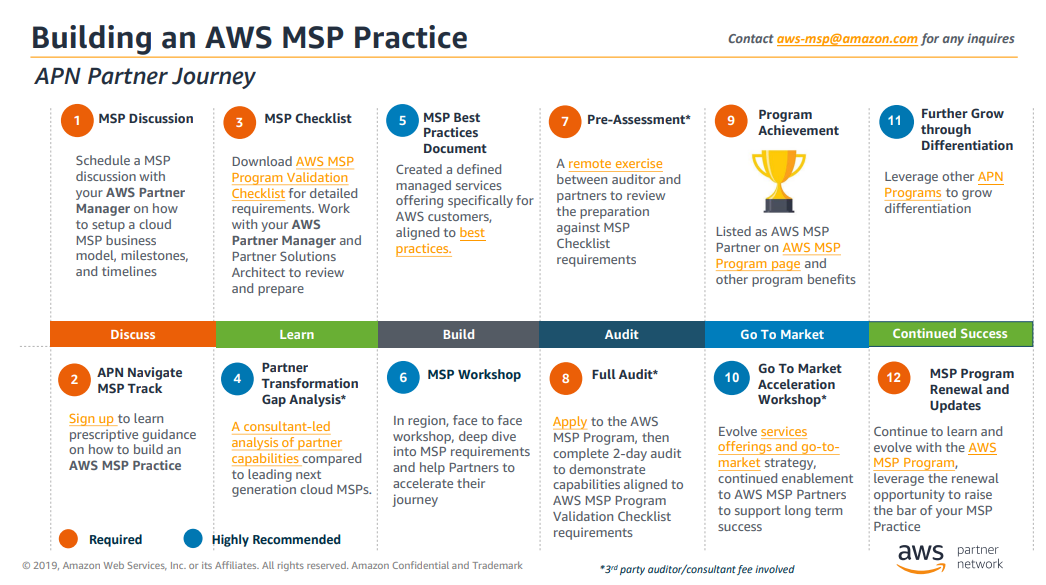 The most critical step is the third-party audit. In the audit, the MSP needs to show all-around capabilities such as mentioned in the official validation checklist released by AWS . This is where Centilytics comes in picture.
How Centilytics can help you become Next-gen AWS MSP?
There is a specific validation kit issued and regularly updated by AWS in order to set benchmarks and standards for AWS MSP Partner Program. Every MSP who is applying for the program must clear the audit which tests MSPs capabilities to manage and deliver AWS services to its customers.
Centilytics guarantees the Next-gen AWS MSP audit clearance to its partners. Our intelligent platform provides every minute to advanced capabilities that match requirements as per the latest AWS MSP Validation Kit.
You can download the resource to see for yourself at what control points do we help you when it comes to audits.
So, if you are aiming to become a Next-gen AWS MSP, then sign-up for our partner program now.